Kruger Brothers with Kontras Quartet
Kruger Brothers with Kontras Quartet
(presented in honor of the Blue Ridge Parkway Foundation's 25th Anniversary)
Saturday, June 18, 7 p.m.
Adults $35 in advance/$40 day of show, $10 for children 12 & younger
Kruger Brothers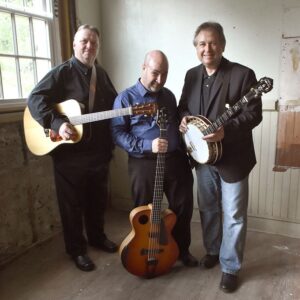 Born and raised in Europe, brothers Jens and Uwe Kruger started singing and playing instruments at a young age. The brothers were performing regularly by the time they were 11 and 12 years old. In 1995, they became a trio with the addition of bass player Joel Landsberg, a native of New York City.
Today, the trio is based in Wilkesboro, N.C., and is known for an incomparable sound that blends bluegrass with elements of classical music. In 2006, Jens began a venture into the themes and forms of classical music when he was commissioned to write the work, Music from the Spring, for banjo, guitar, bass, and full symphonic orchestra. Since then, he has received three commissions to write classical pieces which the Kruger Brothers have performed with orchestral ensembles.
Learn More About the Artist
KrugerBrothers.com
The Kontras Quartet
Admired for their "superlative artistry" (CVNC Arts Journal), the Kontras Quartet has established an international following for their vibrant and nuanced performances. The Chicago-based ensemble has been lauded for its "crisp precision" (Palm Beach Daily News) and "enjoyable musical personality" (Fanfare Magazine).
Kontras means contrasts in the Afrikaans language—fitting for a string ensemble whose colorful repertoire spans centuries, genres, and continents. The Kontras Quartet's recent and upcoming engagements include international tours of South Africa and Switzerland; broadcasts on classical radio programs and stations nationwide (including Performance Today and a three-month residency with Chicago's WFMT 98.7 FM); performances at Chicago's Symphony Center and the National Gallery of Art in Washington, D.C.; and television appearances on NBC and PBS.
The Kontras Quartet records for MSR Classics and has released three critically acclaimed albums. The second, Lucid Dreamer, written by Jens Kruger, features a septet that Kontras commissioned in 2013 with a grant awarded by Chamber Music America. The work treads the line between classical music and American folk and invigorates Kontra Quartet's ongoing collaboration with the Kruger Brothers, as does their 2017 release, Roan Mountain Suite.
Learn More About the Artist
KontrasQuartet.com
ADDITIONAL CONCERT DETAILS
Gates open to ticket holders at 5:45 p.m. Season pass holders are allowed into the amphitheater 15 minutes early, at 5:30 p.m.
Bring a chair or blanket to sit on. You may bring a coolers or picnic basket, but no alcohol please.
Concerts are held rain or shine, and it can be cool in the mountains when the sun goes down, so bring a raincoat, poncho or umbrella, and a sweater or jacket.
Please note that advance ticket purchases are nonrefundable.
For more information, view our concert FAQs
SAFETY GUIDELINES FOR ATTENDEES
The Roots of American Music concert series is held in the Blue Ridge Music Center's spacious outdoor amphitheater on the Blue Ridge Parkway.
To make the experience as safe as possible, please stay at home if you have a fever, cough, aches and pains, loss of smell or taste, difficulty breathing, or are sneezing and coughing.
Concert attendees are asked to maintain six feet of distance between groups throughout the evening, including when standing in line and selecting seating locations in the amphitheater.